The 2006 Oakland Mayoral Race- The Candidates
It's been eight years of Jerry Brown, and the city of Oakland has made great strides in housing and busines development. But city services have seemed lacking and the beaucracy in the Oakland city council and goverment seem out of control at times. It's been an interesting eight years under Mayor Brown; he brought back Oakland from totally finacial collapse and has help fuel the growth in Oakland downtown and Jack London, and although violent crime rates lowered the
homocide rates
in Oakland continued to rise under his supervision (In part because of popular side shows). Jerry Brown has also been criticized for his
failed arts promises
. Brown has been against a new ballpark, "When then-city manager Robert Bobb pushed hard for a ballpark in the uptown area, Brown pressured him to leave. Bobb went to Washington, D.C., which is building a new park for the relocated Montreal Expos, now the Washington Nationals. ." (
SF Gate
)People have always had mixed opinions of Jerry Brown, but I think he would make a decent Attorney General.
The Mayor race has come down to its final weeks. All three main candidates, Ron Dellums, Ignacio De La Fuente, and Nancy Nadel, have stated their opinions and views on issues. All three bring their own things to the table and draw from different crowds.

Ron Dellums
:
-Born in Oakland in 1935, attended Oakland public schools, and went to school at UC Berkeley in addition to other Bay Area colleges.
-He was/is involved in Social Work, especially homelessness.
-Was elected as a U.S. Representitive for the House of Congress in 1971 and served until 1999. Biggest accomplishment in Congress was leading the sanctions against the apartheid in South Africa.
-Decided, in October 2005, to run for Mayor of Oakland, because of a strong push and support from activists;"
'I answered the call,' Dellums said. 'This was not personal ambition. This was not desire. This was not planned. It was spontaneous on the people's part, and it was spontaneous on my response.'
"Some question his motivation to be mayor.
-Dellums promotes that he is for the people of Oakland, and wants to represent them, yet has made few public appearences since announcing his campaign.
-Dellums is for Oakland having full control over its public schools, not the state.
-His work as a lobbyist, has been questioned by his oppenents.
-Dellums is big on inclusionary housing in housing development.
+
Dellums on the A's stadium situation
:
(This is the email he sent me)
"Ron favors a ballpark in Oakland and will do whatever it takes, without
bankrupting Oakland, to keep the A's here.
What Ron has said in many public events and debates is that when he met with Mr. Wolff, the A's owner, to see what he could do to keep the A's that Wolff told him that the current Council and Mayor didn't work with him and that he was eploring other options (like Fremont) because he didn't see feasible options in Oakland.
Keeping the A's is important and won't interfere with my concern for safe streets, schooling, healthcare, and the efficient delivery of city services, unless the city is asked to massively subsidize the A's."
But in a recent April debate, Dellums said flat out that his discussions with Lew Wolff indicated the A's would soon leave the city.
Ignacio De La Fuente
:
-Born in Mexico City, in 1949 and immigrated to the U.S. when he was 21.
-He became a union representative in 1977 and has become a big player in union talks and negotiations.
-Was elected to Oakland City Council in 1992, and was a big part of the downtown and Fuitvale revitalization. Mr. De La Fuente Co-chairs the Oakland-Alameda County Coliseum Joint Powers Authority.
-De La Fuente has made numerous public appearances, and has been open about his successes and failures in Oakland, especially the
bungled deal that brought the Raiders back to Oakland but cost taxpayers millions.
He been
very straight foward and aggressive in his interviews and debates
, causing some people to think he has gone to far.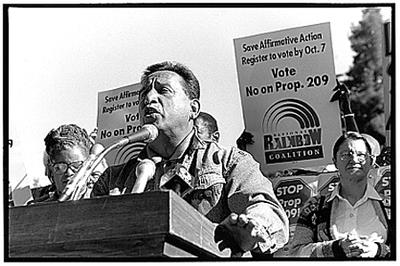 -De La Fuente feels that housing and business development is key for the city to grow and fund public projects and services. Initially he not include inclusionary housing as part of his campaign, but recently
has supported affordable family housing
.
-Wants to clean up all the beaucracy that happens in Oakland city services.
-He would be the first Hispanic Mayor of Oakland if elected.
+
De La Fuente on A's stadium situation
:
Like Dellums, De La Fuente is for keeping the A's in Oakland. He was key on getting the
A's to renew their Coliseum lease
. In June of 2005,
De La Fuente pushed for the Oakland estuary waterfront location
, which Signature Properties is building on, but were willing to discuse ballpark possiblities (Nothing happened). De La Fuente probably has the most political leverage to keep the A's in Oakland.

Nancy Nadel
:
-Nadel has been a West Oakland resident for 25 years.
-Has been part of the Oakland City Council for 10 years.
-Campaign took a hit when Dellums decided to join mayoral race.
-Nadel wants more progressive city services in education, job training, and safety.
-Is very big on inclusionary housing.
-Says "
I know the city very well
".
-On the economic front, she promoted a film studio proposed by members of the Wayans family of well-known actors and taking control of the Oakland ports.
-If elected would be the first female Mayor of Oakland.
+
Nadel on A's stadium situation
:
In October of 2005, Nadel considered the
Broadway Auto Row site
as a possible location, but two months later the site became slated for construction.
De La Fuente and Nadel both say that a ballpark can't be built with public subsidy
.
All three candidates have their moments, and their missteps. I don't think anyone is a clear cut favorite. Dellums might be the favorite on paper, because of name recognition, but De La Fuente has made many more public appearances and has been a force on the Oakland City Council, and Nadel might get many votes from women voters. Also to keep in mind is race, Dellums may get more African American votes and De La Fuente Latino votes.
It may come down to the voters in the Oakland Hills
. Please remind everybody you know to vote.